Ultra Acne Clear Masque's Sulfur and Clay Acne Treatment Benefits
Ultra Acne Clear Masque is the perfect combination for getting rid of acne breakouts fast! Using natural ingredients of the finest French facial clays and maximum strength acne fighting sulfur UAC Masque is the ultimate overnight spot treatment for a clearer, blemish-free complexion the next morning.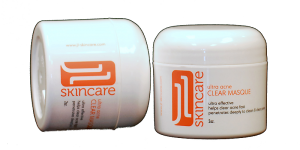 Acne Treatment Benefit #1: Clay French green clay is a type of mineral clay valued for its highly absorbent properties and its nourishing trace minerals such as calcium, aluminum, magnesium, silica, phosphorous, copper and zinc. Alternative medicine practitioners believe this composition makes French green clay particularly beneficial as a therapeutic treatment for a variety of health concerns and exceptionally effective in reducing acne breakouts.
Acne Treatment Benefit #2: French green clay has historically been used as a beauty treatment and is a common ingredient in many current-day commercial face masks. Mountain Rose Herbs, an organic botanical products manufacturer based in Oregon, indicates that French green clay is beneficial in removing impurities and tightening the pores, toning the skin, exfoliating dead skin cells and reducing inflammation in acne.
Acne Treatment Benefit #3: Containing the highest concentration offered, UAC Masque's sulfur works to take infected skin and cause it to dry and then exfoliate off. That's exactly what you want if you're clearing up an acne breakout and sulfur has the benefit of also inhibiting pores from becoming blocked in the future as well as minimizing oiliness overall.
Acne Treatment Benefit #4: Finally, sulfur has long term benefits for overall skin improvement as opposed to only short term skin drying effectiveness. In short, UAC Masque sulfur not only treats spot acne both proactively and retroactively, but it also has long term skin benefits that can have your skin looking clear and perfect all of the time.
We highly recommend this Ultra Fast, Ultra Effective two-fisted acne fighting approach to help you once and for all achieve an acne free, healthy complexion. Use a JL UAC Masque daily for two weeks, and then scale back to twice a week. Ultra Acne Clear Masque amazing drawing power will help to open and clean out the pores. It removes excess sebum and is an excellent exfoliate. Clay has natural antibacterial properties as well, pulling the toxins from your skin and will dramatically speed the healing of the pimples. This is a good thing!  Also, your face may show some redness when you remove the clay. This is very normal. The Ultra Acne Clear Masque uses a combination of clays and sulfur to increases the blood circulation in the skin, which aids in the healing process.
SAVE WITH COUPON CODE: 11OFF12   BUY NOW