Ultra Acne Clear is the CLEAR winner when it comes to Fast-Effective Acne Fighting Treatments.
Tired of other acne treatments NOT Working?  Ultra Acne Clear has added  NEW JL Activated Charcoal Cleansing Bar to our arsenal of Top  Acne Fighting products to help you get rid of zits fast!
Benefits of JL Activated Charcoal Cleansing Bar: Why Use Activated Charcoal?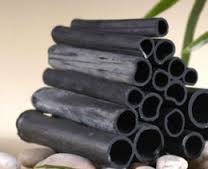 When soap is made with activated bamboo charcoal it makes the soap very absorbent and much more capable of cleaning the skin better than any other soap. Activated charcoal has high absorptive powers, which means that it draws, filth, grime, pollutants, environment toxins into itself. When charcoal it is exposed to contaminants, they literally become trapped in the carbon's pores. Charcoal also has antibacterial properties that can help heal wounds.
Activated charcoal soap help extract toxic chemicals that can find their way to your skin each and every day.
The list of benefits of activated charcoal soap is rather impressive.
•    Activated  Charcoal absorbs minerals, toxins, impurities, and other harmful substances from your skin, leaving you with stronger, healthier skin.
•    It acts as a natural exfoliate to remove dead skin cells.
•    JL Activated Charcoal Cleansing Bar is an effective, natural treatment for acne. The bamboo charcoal in the soap makes it more absorbent than normal soaps and as a result it can clean deep inside the skin pores, cleaning better than normal soap. Normal soaps leave a residue on the skin that stops the pores breathing properly and stopping the body's natural moisturizers from working on acne skin. JL Activated Charcoal Cleansing Bar is different. It leaves no residue on the skin and so allows the pores to breathe and be naturally moisturized.
•    Amazing all natural soap made with good stuff; 100% great soap fortified with anti-aging olive oil and jojoba oil that you can use safely each day without your skin ever drying out. Your skin feels softer, smoother and radiantly healthy. As a result you look younger. Win!
•    Charcoal detox your skin, use to treat eczema, psoriasis and dry cracked skin. Bamboo kills bacteria and bamboo charcoal cleans the skin thoroughly and allows the body's natural moisturizers to work effectively on eczema and psoriasis.
•    Bamboo is not only antibacterial but also anti-viral, anti-fungal and antimicrobial. As a result activated bamboo charcoal soap is ideal for people who are exposed to or battle fungal, viral and other bacteria based problems of the skin.
•    When used in the  bath or shower, JL Activated Charcoal Cleansing Bar releases many beneficial minerals, such as calcium, potassium and magnesium into the water. This creates a soothing, relaxing hot spring-water like effect.
Buy JL Charcoal Activated Cleansing Bar alone or as part of our Easy 3-Step Acne Fighting Treatment System.
Developed in Aspen, CO;  Ultra Acne Clear rises above the rest!