Aspen's JL Ultra Acne Clear Masque is your remedy for acne, blackheads, clogged pores, adult acne and ultimately fabulous healthy skin! Completely natural, JL carries the unique combination of the finest French green clays and uses maximum strength 10% sulfur to treat the acne and prevent new acne from forming. Ultra Acne Clear Masque gets 5-star reviews -it's so good.
Ultra Acne Clear's formula of purifying natural clays and vitamins, absorb excess oils, exfoliate your skin, tighten pores, minimize oil production and purge impurities and blast away those irritating blemishes. It leaves the complexion clean, clear, and refreshed. Add in some skin-soothing aloe and this mask is a top-notch mask for oily skin. Suggested use is once a week and as a spot treatment as needed.
Benefits
• Deep pore cleansing and exfoliating, leaving the skin silky smooth
• Actively draws out blemishes and black heads to the surface, absorbs excess oil, leaving skin clean and refreshed.
• A weekly clay mask is an essential part of a taking good care of your skin naturally
• Clay is a natural exfoliating alternative to harsh acid treatments or peels and will help to reveal a clean, gently exfoliated, refreshed skin
JL Skincare's natural product line is perfect for those looking for paraben and phthalate-free products and will be glad to know this mask is without. Moreover, what Ultra Acne Clear Masque is formulated WITHOUT is Sulfates- Synthetic Fragrances- Synthetic Dyes- Petrochemicals- Phthalates- GMOs- Triclosan. This product should never be used by those with sensitive or fair complexions. It is allergy tested and is not animal tested.
Studies have proven in the recent years that niacinamide (vitamin B3) & Vitamin B5 (pantothenic acid) are members of the powerful B-complex vitamin family and are powerful ingredients that yield many skin care benefits.
Commonly known as Vitamin B3, Niacinamide at 2% has been shown to improve skin health, reduce water loss in the skin and retain fatty acid levels (younger, plumper, firmer skin). It has also been proven at high concentrations (between 3-5%) to be a very effective acne reducer. B Skin Clarifier carries the highest concentration available of 5% & has been shown to be just as effective as the topical antibiotic Clindamycin for treating acne! An obvious additional advantage of B Skin Clarifier is that you don't run the risk of resistance, since it is not an antibiotic.
B Skin Clarifier also is an excellent skin lightning agent that works by disrupting the transfer of melanosome from the melanocyte to the keratinocyte. There was a study
Read More

»
Ultra Acne Clear Masque is the perfect combination for getting rid of acne breakouts fast! Using natural ingredients of the finest French facial clays and maximum strength acne fighting sulfur UAC Masque is the ultimate overnight spot treatment for a clearer, blemish-free complexion the next morning.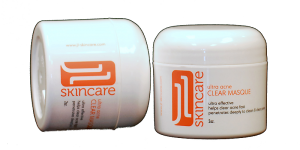 Acne Treatment Benefit #1: Clay French green clay is a type of mineral clay valued for its highly absorbent properties and its nourishing trace minerals such as calcium, aluminum, magnesium, silica, phosphorous, copper and zinc. Alternative medicine practitioners believe this composition makes French green clay particularly beneficial as a therapeutic treatment for a variety of health concerns and exceptionally effective in reducing acne breakouts.
Read More

»