Best Acne Fighting Product-Ultra Acne Clear Voted #1
Ultra Acne Clear Voted #1 Acne Fighting Product by it's Clients!
Ultra Acne Clear is different-it WORKS! AND we take a completely different approach with our specialized products utilizing power house natural ingredients like vitamin B, clay, sulfur, Vitamin C and more!
Generic acne treatment solutions such as: Clearsil, Neutrogena, Proactiv, and other companies have been using the same exact approach and generic formulations for over 65 years! Stop using what doesn't work on start using Ultra Acne Clear that treats your entire skin's health; Clear up your breakouts, Stopping Acne from forming AND Get a glowing healthy complexion to boot!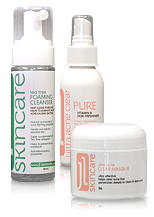 Your face consists of good AND bad bacteria. The good bacteria is essential when it comes to having clear and healthy skin. The good bacteria also provides your skin with a natural glow. Ultra Acne Clear unique skin care system destroys the bad acne causing bacteria while building the healthy acne fighting bacteria!
Bottom line: the acne treatment companies aren't going to change. They're going to use the same science and generic formulations for ANOTHER 65 YEARS and they'll keep damaging your skin in the process.
BUY NOW AND SAVE 10% Coupon 11OFF12
Don't believe us? Use Ultra Acne Clear for a 100% Customer satisfaction Guarantee-If you don't see less breakouts and a healthier complexion, You get your $$ back!